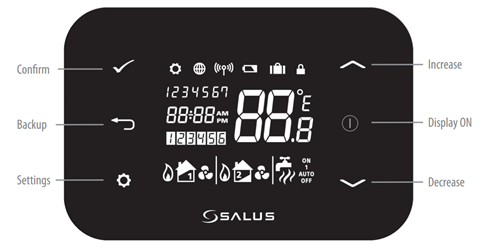 Keys / Buttons needed: Cog/Settings

Tick/Confirm

Return/Backup

When the iT500 Receiver enters Failsafe Mode the top light on the receiver will turn orange (as pictured below). The receiver enters Failsafe Mode in order to protect your boiler from a power cut or similar event.
Procedure To Exit Failsafe Mode :

Please ensure the Thermostat and Receiver are more than 1 metre apart during this process.
Turn the mains power to the boiler off for

5
Seconds, then turn the power back on.
Insert a paperclip, pin or similar into the 'Sync'

hole on the left underside of the receiver.
If the device is connected to the internet the globe and WiFi icons will be displayed

.
If the device is not connected to the internet just the WiFi icon is displayed
On the Receiver the red light will now start to flash green, and then turn to a solid green light.
The solid green light indicates the two devices have successfully paired.
__________________________